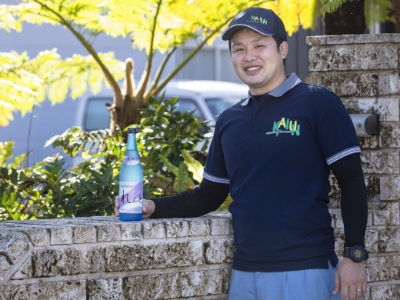 From the foothills of a sacred mountain, innovative ideas bring their products to enthusiasts around the world
Amami Oshima Kaiun Shuzo Company, Ltd.
Interviewee: Hironobu Tomari
Kaiun Shuzo is located in Uken-son, in southern Amami Oshima. Uken-son is at the base of the sacred mountain Uwandake, and has a warm climate, pristine air from the surrounding deep forests, and a water source that provides a soft, slightly sweet, and weak alkaline water. When our company was established in 1996, the population of Uken-son was about 2,000. Many younger people had left, and the village was aging. Kaiun Shuzo's founder wanted to harness the remarkable environment to create an unparalleled Amami Kokuto Shochu and to turn Uken into the "Haven of Healthy Foods and Healing," and thus went into Amami Kokutou Shochu making from a different industry, hotels. The word kaiun means "bringing good luck." The company name certainly reflects the enterprising spirit that the founding members, while novices of shochu making at that time, had in deciding to start a distillery.

Experimentation became our forté, churning out various new ideas. One came to fruition as a unique maturing process, "acoustic aging," in which classical music is played to tanks holding maturing shochu. By applying the acoustic aging process to a vacuum distilled shochu, a shochu with a beautiful flavor and aroma, Lento was born. Lento became popular even among those who were not familiar with Amami Kokuto Shochu. It became the best selling shochu in Japan and came to represent the Amami Kokuto Shochu category. The recognition is not only in Japan but from around the world.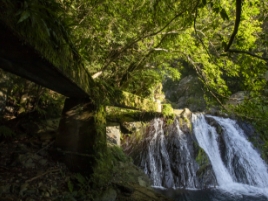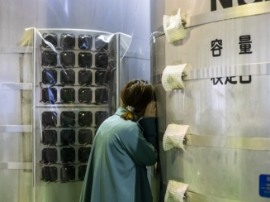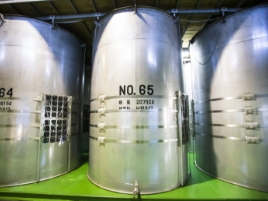 As shochu is now receiving a spotlight globally, while we will continue to be demanding about malted rice, our new undertaking is the types of yeast and their effects. We have identified yeasts that deepen scents and yeasts that expand flavors. We are working to combine these for an extraordinarily new Amami Kokuto Shochu. Further, to ensure our global guests can feel fully comfortable with Amami Kokuto Shochu, as one of the first Amami Kokuto Shochu distilleries to do so, we are in the process of receiving an FSSC22000, an internationally accepted food safety certification.

Kaiun Shuzo is an enterprising distillery that is blessed with abundant nature and has a name that should bring good luck. We are currently working on a new Amami Kokuto Shochu that is sure to please our guests from across the oceans; we are planning to reveal this soon.
Pickup SHOCHU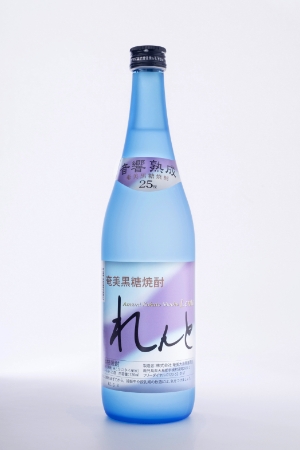 Lento 25% ABV
Vacuum distillation, white koji
Classic symphonies are played to vibrate the storage tanks that hold Lento.  The fine vibrations are a part of the maturing process, called "acoustic aging."
contact