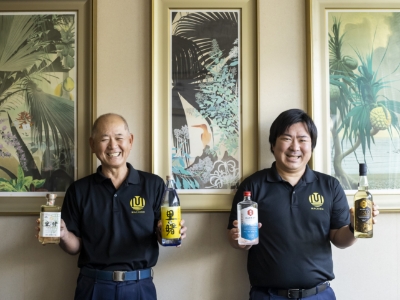 Enterprising spirit and capabilities are at work to globally establish Amami Kokuto Shochu
Machida Shuzo Co., Ltd.
Right side: Sho Hirashima
Left side: Yoichiro Haseba
What sets Amami Kokuto Shochu apart from other shochu is how processed brown sugar is used, and not sugarcanes themselves. Amami Kokuto Shochu is a sugarcane-based distilled liquor, but why bother using the melted brown sugar liquid? And why does malted rice come into play at the primary preparation stage? The answers lie in the curious history of Amami Kokuto Shochu production throughout the ages, involving the Amami Islands, the United States, and Japan. A saccharification agent such as malted rice is not necessary to generate alcohol for this shochu, since the main ingredient is brown sugar. However, the malted rice broadens the range of flavors, and the incorporation of malted rice is a historical outcome.

Machida Shuzo was the first distillery to work with vacuum distillation; these days, many others use this method. We developed the method because we wanted guests who were unfamiliar with Amami Kokuto Shochu to try it and fall in love with it.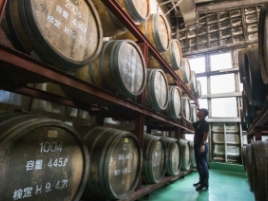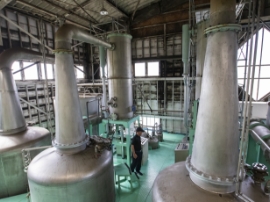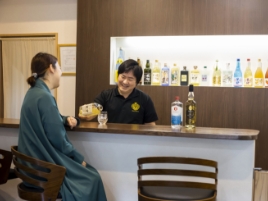 We use more brown sugar than other distilleries. This gives our Amami Kokuto Shochu a cleaner taste. The problem with high brown sugar volume is, with conventional production methods, the extra brown sugar stresses the yeast and inhibits the flavors and aroma we want from emerging. That is why we take an extra step, adding brown sugar in two separate stages. We also want to preserve the rice malt-based oils and mellowness, so we take pains to strike the right balance between brown sugar and malted rice, especially for brands such as Sato no Akebono (Sold as Nankai in the US). Our Sato no Akebono Gold (Nankai Gold in the US) has a beautiful golden color with a clean brown sugar flavor and a white oak barrel scent. The recipe to achieve this complex blend is confidential. After much experimentation to perfect this Amami Kokuto Shochu, Nankai Gold won the Gold Medal at the LA International Spirits Competition in May 2018 and has been collecting awards ever since. Our recommendation is to try it neat, but we also know it makes great cocktails.

One day, the Amami Islands can be to Amami Kokuto Shochu what Islay is to whiskey. With our laboratory facilities in our distillery, we will strive to create an Amami Kokuto Shochu that makes the type more relevant in other countries and to establish Amami Kokuto Shochu as a substantial new category of distilled liquor around the world.
Pickup SHOCHU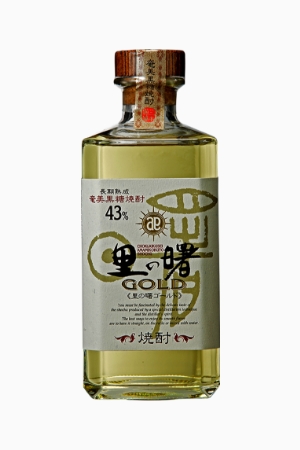 Sato No Akebono Gold ('Nankai Gold' in the US) 43% ABV
Blend of vacuum and atmospheric distillation, white koji
The matured shochu brand Sato no Akebono (vacuum distillation) and another shochu made by atmospheric distillation are each matured in oak barrels separately, then exquisitely blended.
contact